UPCOMING


Group Exhibition: A site
Curated by Sofía Corrales Åkerman
February 15 - March 25, 2023
Opening Reception: February 15, 2023
Alzueta Gallery
C. Marqués de Monasterio, 1
28004 Madrid, Spain
Group Exhibition: Three Year Annniversary
Curated by Art Cake
February 18 - March 18, 2023

Opening Reception: February 18, 2023

Art Cake
214 40th Street
Brooklyn, NY 11232



PAST


sun set : the long goodbye
July 22 - 30, 2021
Opening Reception: July 22, 2021
Art Cake
214 40th Street
Brooklyn, NY 11232
Solo Exhibition
This is an ongoing series that Art Cake has organized for the participating artists-in-residence as an opportunity to present and document their work made during the pandemic.
6BASE / Art Cake: Artist-in-Residence
Sunset Park, Brooklyn, NY
2019 - 2021
Art Cake studio program provides individual workspaces to artists from around the world working in a variety of fine art disciplines. Rotating the artists in residence every one to two years, the mission is to build and support a diverse community of artists working in New York. The complex on the second floor is comprised of ten studios and a shared communal area.

The studios have been curated by a selection of New York-based artists, curators, writers, and professors.

Each member of the rotating selection committee provides names of two to three artists who would benefit from the studio program. Art Cake welcomes artists of all ages, working in all disciplines, and who can commit to using the studios regularly for production.
Art Cake Resident Group Presentation
May 8 - 16, 2021
Organized by Art Cake Residents & Marina Gluckman
Art Cake
214 40th Street
Brooklyn, NY 11232
Group Presentation
Art Cake is pleased to present a group exhibition of works made by the current participating artists in the studio program: William Fleites, Blanca Guerrero, Carl E. Hazlewood, Naomi Lisiki, Jeffrey Morabito, Michael Rado, Michele Rushfeldt, and Dannielle Tegeder.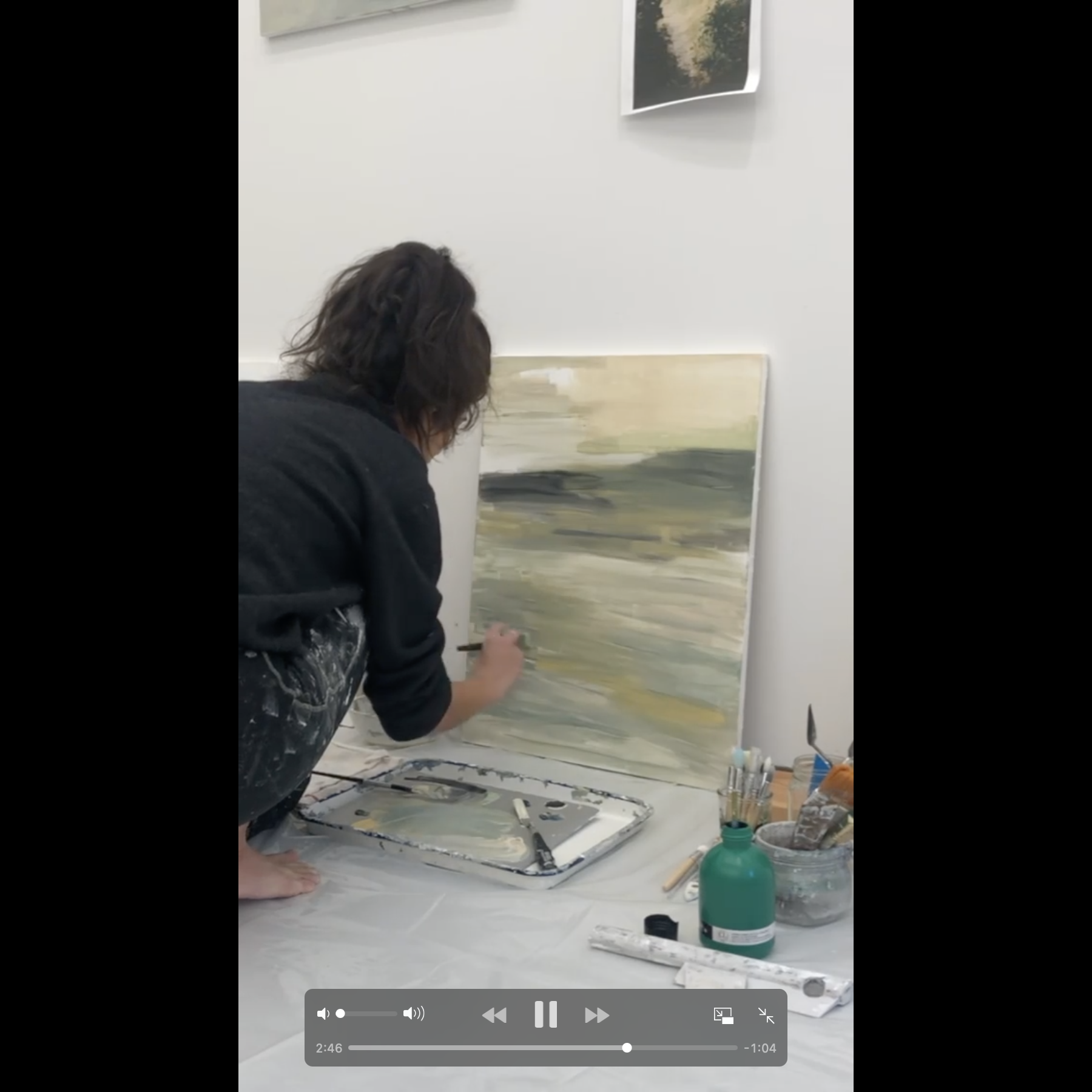 On The Spot with The Brooklyn Rail
March 2021
A virtual studio visit with
The Brooklyn Rail
Filmed and edited by Blanca Guerrero.
For full video featuring the journals of Art Cake resident artists William Fleites, Blanca Guerrero, Carl E. Hazlewood and Naomi Lisiki, see
here
.
The Brooklyn Rail is a journal committed to providing an independent forum for visual arts, culture, and politics throughout New York City and beyond.
To Sink, Revisited
November 2 - 30, 2019
Court Tree Gallery
371 Court Street
Brooklyn, NY 11231
Solo Exhibition
Court Tree Gallery proudly presents To Sink Revisited by Brooklyn based artist Blanca Guerrero. This is her second show with Court Tree Gallery.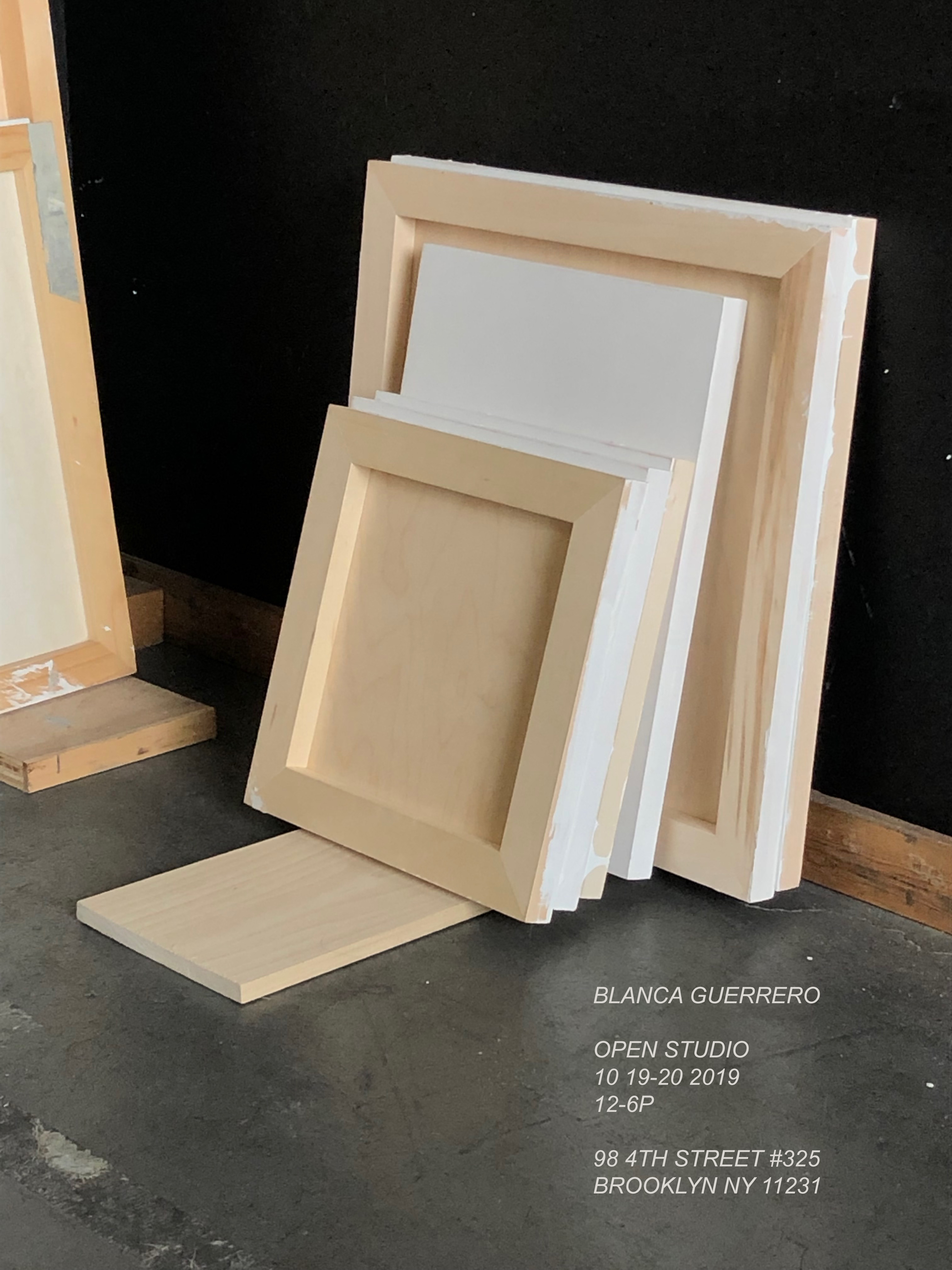 Gowanus Open Studios
October 19 - 20, 2019

98 4th Street #325
Brooklyn NY 11231

I SINK INTO THE BLUE
September 27 – October 20, 2019
Court Tree Gallery
51 35th Street, Building 5
2nd Floor. Suite B236
Brooklyn, NY 11232
Solo Exhibition
Court Tree Gallery is proud to present I SINK INTO THE BLUE by Blanca Guerrero. This body of work was made during the Artist-in-Residence-Yamanashi (AIR-Y) and was exhibited in Kofu, Japan in 2015.

The Face Apartment
presented by The Face Magazine

September 6 - 27, 2019

9 Bleeker Street, 3rd Floor
New York, NY 10012

Featured Artists:
Blanca Guerrero
Jordi Keriwick
Coco Knudson
MRKA
NKONE
Anthony Peronace
Pilassbros
Tina Shaw

Organized by Background CC
Chapa y Pintura
February, 2019
Presented by Cerquone Projects
Calle de Pedro Unanúe, 15
28045 Madrid
Featured Artists:
Fauso Amundarain

Paul Amundarain

Miguel Caravaca

Desi Civera

Ana Dévora

Marian Garrido

Juan Gerstl

Blanca Guerrero

Jorge Pizzani

María Ramírez

Rafael Rangel

Marina Vargas
An Wei

Gowanus Open Studios
October 20 - 21, 2018

98 4th Street #325
Brooklyn NY 11231




Open Studios
October 17, 2015

544 Park Avenue #202
Brooklyn NY 11205

Featured Artists:
Blanca Guerrero
Rachel Libeskind
Ester Kislin
After Womanhouse
November 3-30, 2016
Presented by Picture Room
Ace Hotel
20 W 29th Street
New York NY 10001
Featured Artists:
Kayla Ephros
Blanca Guerrero

Aidan Koch
Maia Ruth Lee

Jen Shear
In 1971, Judy Chicago and Miriam Schapiro curated Womanhouse, an exhibition at CalArts in which 21 female performance and installation artists created thematic work based on stereotypical tropes of "women's work." 45 years later, Picture Room pays homage to this historic happening, inviting a select group of contemporary women artists to address these themes through a modern lens. Featuring works from Kayla Ephros, Blanca Guerrero, Aidan Koch, Maia Ruth Lee, and Jen Shear, After Womanhouse's participants make use of clip art, blogging, and web imagery paired with hand-crafted paper, textiles and traditional artistic practices.


Memorias de Japón
May 23 - June 6, 2015

Galeria Vuela Pluma
Calle San Lucas, 3
28004 Madrid

Featured Artists:
Arturo Guerrero
Blanca Guerrero



I SINK INTO THE BLUE
February 21-22, 2015

AIR-Y
2 Chome-37-2 Marunouchi
Kofu, Yamanashi 400-0031
Japan

Solo Exhibition
Artist-in-Residence: Yamanashi [ AIR-Y ]
Kofu, Yamanashi, Japan
2015
Artist in Residence Yamanashi [AIRY] is a program that invites artists from Japan and abroad to live in the beautiful mountainou area of Yamanashi, making new work and new connections. AIRY is artist run, focusing on networking and community involvement rather than business, and aiming to cultivate an environment for sharing ideas and different cultures.

Whilst at AIRY, artists are provided with accommodation, a space within the main gallery for use as a studio, and an exhibition at the final stage of their visit.

Artists are also given support to run a workshop and network within the local community.

As well as running the residency program, AIRY is involved with other projects locally, nationally, and abroad, such as connections with local schools, cafes, shopping district, farms, and former bath houses.

The curatorial team of the gallery welcomes an interesting array of exhibitions from both local and International artists and offers artist talks and workshops.

Since 2005, AIR-Y has hosted over 140 artists from more than 36 countries.